Sit-in at Checkpoint Charlie: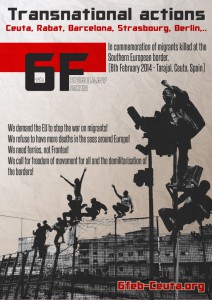 Saturday, February 6th, 12 p.m. – 3 p.m.
Checkpoint Charlie, Friedrichstr. 43–45
Subway: U 6 Kochstraße, U 2 Stadtmitte
Bus: M 29 Kochstraße
Without hesitation the Guardia Civil used rubber bullets and tear gas on the 6th of February 2014 in Tarajal (Morocco), to stop migrants who tried to reach Ceuta swimming, killing 15 people.
In autumn 2015, the judge concerned with the case closed the proceedings against 16 Policemen sued by Spanish NGOs. To commemorate the tragedy of Tarajal and in solidarity with the migrants, numerous activities will take place in France, Germany, Belgium, Spain and the Netherlands. The European Union is to be held responsible to a considerable extend for this tragedy, due to the externalization of the border control on the African continent, the militarization of the border regime and the construction of walls in collaboration with countries of the global south.
Sit-in at Checkpoint Charlie:
Saturday, February 6th, 12 p.m. – 3 p.m.
Checkpoint Charlie, Friedrichstr. 43–45
Subway: U 6 Kochstraße, U 2 Stadtmitte
Bus: M 29 Kochstraße
Conference:
Saturday, February 6th, 6 – 9 p.m.
Mehringhof Versammlungssaal, Gneisenaustr. 2a
Organizers: Voix des Migrants, URBB (Union des Réfugié-es
de Berlin-Brandenbourg), Refugee Community Berlin, ae act
(afrique-europe-interact), Watch The Med Alarm Phone, Corasol